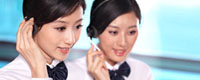 Name: sally
Tel: +86-755-27837390
Fax: +86-755-27837390
E-mail: sally@enjoyinflatables.com
Add: Jiuwei Industrial park, Xixiang, Baoan District, Shenzhen, China.
Skype: Enjoyinflatables
MSN: enjoyinflatables@hotmail.com
QQ: 2408782341




Enjoy inflatables Co, .Ltd is an inflatable manufacturer based in China.
Our focus as an inflatables manufacturer is to produce top quality inflatable bounce houses, inflatable bouncy Castles combo,inflatable Slides, inflatable fun city, inflatable Obstacles, inflatable Sports, inflatable tent, inflatable water parks, inflatable water toys,inflatable water sport, and interactive inflatables for children and even adults of all ages to enjoy.
[
More
]